Farm-Fresh, Organic and Local Flowers
U-Pick Flowers
***U-pick is closed August 9th due to inclement weather! Join us Saturday morning from 9 to 11 am!***
Cut your own fresh, specialty-cut blooms straight from our gardens. We will be open Wednesdays from 6 to 9 pm and Saturdays from 9 to 11 am.
When you arrive, you will be greeted by a member of The Lily Crew. We provide clippers,  baskets, and water. Our floral specialist can show you what flowers are currently blooming. Our flowers are priced anywhere from $1 for a Zinnia to $4 for huge Hydrangea stems. Please bring your favorite vase if you want to arrange on-site and outdoor shoes for foraging.
If you have six or more people coming, call or email ahead and reserve a complimentary table. Visitors are welcome to bring their friends and a bottle of wine to share. This is the perfect opportunity to enjoy an activity outdoors. Check our website or social media for any cancellations before you arrive.
If you would like to enjoy a private table for a party in the garden, please visit our Party in the Garden page for more information.
Opt in for our text notifications to receive updates on what's currently blooming, closings due to weather, special coupons and more!
⁠
💐 Text "JOIN" to 1 833 277-7598! 💐⁠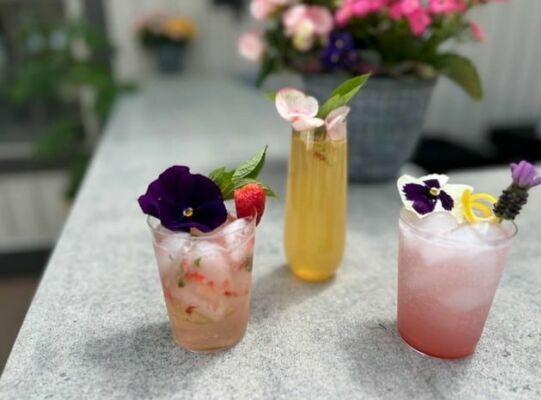 Introducing TML Botanical Mocktails available at the patio bar on Wednesday evenings during u-pick from 6 to 9! Our fabulous, in-house mixologist, Debra, created our custom Sparkling Lavender with Fresh Lemon and our Peach Bellini Mocktails!