---
Mavis Linneman-Clark, Executive Chef and Fearless Leader at The Delish Dish Catering & Events, has a knack for creative cooking that is truly is bar-none. The flavors and presentation we have seen her serve time and time again always impress all the guests here at The Marmalade Lily. From the moment couples reach out to The Delish Dish, the professionalism and attention to detail never fails to leave them feeling cared for with service, quality, and a uniqueness to their wedding cuisine that is all their own.
And did you know that Mavis has her own line of specialty jams? How cool is that?
While most couples opt for a plated or buffet dinner, more and more we are seeing them opt for more unique options like a Sunday brunch. In her guest blog post, Mavis explains why she and her team LOVE hosting Sunday brunch weddings. The Lily Crew is dying to have one here soon!
Enjoy!
Libby
---
We love Sunday brunch weddings at The Delish Dish! Why? Because who doesn't love brunch?!
Whether it's your typical 12 PM Sunday brunch or a more unique brunch-for-dinner wedding theme, it's pretty apparent to us that brides, grooms, and their guests find brunch foods a delight. Here are 6 reasons to consider hosting a brunch wedding:
In most markets, Sunday venue rentals are significantly less costly than a Friday or Saturday, simply because Sundays are a less in-demand day for weddings. Fell in love with a venue but can't afford the Saturday venue fee and/or food & beverage minimum? A Sunday rental just might be more in your budget!
And just because you rent a venue on Sunday does not mean it has to be an early morning shindig—plenty of people host weddings on a Sunday night. Just keep in mind that if you host the wedding on a non-holiday Sunday, guests may head out early if they have to go to work the next morning. If you host your event in late morning or early afternoon, guests may be more inclined to stay through the entire event even if they have to work the next day.
Lots of couples are looking for a way to make their wedding stand out, and a wedding brunch is sure to stick out in your guests' memories if they've only attended Saturday-night seated dinner weddings in the past. Want to make a statement? A brunch wedding could do the trick!
If you're part of a couple that just wants to throw a great party without all the hullaballoo, a brunch wedding is a great way to host a casual but elegant affair. Guests likely won't need to show up in evening gowns or tuxes at a brunch wedding (unless you host a super fancy brunch!), and flowy summer dresses and lightweight suits just put guests more at ease. You can still have gorgeous flowers, centerpieces, and bridesmaid dresses, but brunch just has an inherent casualness to it that seems to put less pressure on everyone—family included.
Just because it's breakfast, doesn't mean you can't have a full bar! Everyone loves a good brunch drink. Some of our favorite breakfast beverage stations include:
Barista-Staffed Coffee Station: Your caterer can either set up or contract out your own private fancy coffee station! Baristas will mix up all of your guests' favorite coffee drinks: cappuccinos, macchiatos, lattes, and more! Our barista has seasonal coffee drinks available depending on the season, like everyone's favorite, Pumpkin Spice Lattes.

Mimosa Bar: Guests love mimosas, so why not offer them a variety of juices to choose from? Classic orange juice, cranberry juice, grapefruit juice, pineapple juice, and/or mango nectar all make a really fun build-your-own Mimosa bar.

Bloody Mary Bar: This is where guests can really get creative with their drinks! At The Delish Dish, we provide the Bloody Mary base (you provide the vodka) and all the fixin's for a great Bloody Mary: celery, different hot sauces, bacon, olives, mozzarella, salami and more for guests to build their own Bloody Mary "skewer stirrer." Always a guest favorite.
Beverages are just part of the fun of a brunch menu! Of course, the food is the star of the show. Depending on your culinary tastes and adventurousness, you can make your brunch menu as classic or unique as your palate will allow. We usually suggest doing a mix of traditional brunch foods like breakfast casseroles, fresh fruit, and your favorite breakfast meats (bacon, sausage, or ham), and then mixing up the menu with some unique brunch stations or items like these:
Candied Bacon in a Shot Glass: one of our most requested items no matter the meal time, guests love this spicy-sweet-savory concoction!

Mini Chicken & Waffles: We make bite-size fried chicken nuggets on mini waffles and serve it with a variety of condiments for guests to choose from: hot sauce, maple syrup, honey, and Made by Mavis Bourbon Barrel Stout Syrup, made with a local beer. Way easier to eat then the full-size version—plus you have room in your belly for so many more delicious items!

Pancake or Waffle Station: A traditional breakfast station, with all your favorite syrups and toppings.

Build Your Own Omelet and Egg Bar: Made-to-order omelets are always a hit—just know guests will wait in line and service will take a bit longer. At least two chefs will need to be making omelets for every 100 guests.

Shrimp & Grits Station: If you're a southern girl/guy, then this is for you! This is a great brunch or dinner station. You can offer guests either full-size or tapas-size portions, depending on what else you are serving. We offer cheesy cheddar grits and garlic roasted shrimp, and include a variety of toppings on the side—bacon, chives, cheddar, hot sauce—for guests to doctor them up as they'd like.

Biscuit & Gravy Bar: Our full-size biscuit bar comes with buttermilk biscuits, sausage gravy, mushroom gravy, sliced ham, stone-ground mustard, blue cheese butter, Sriracha aioli, honey, and homemade jams.

Mini Scone, Biscuit & Jam Bar: For this station, we make a variety of mini biscuits and scones in house (some flavors include: chive biscuits, blue cheese biscuits, cranberry scones, or chocolate chip scones) and pair them with fun jams we make in house through our Made by Mavis Artisan Jam brand, (including Apple-Jalapeno Jelly, Pomegranate-Pinot Noir Jelly, and  Strawberry-Mango Jam) so guests can try a variety of breakfast breads and jams.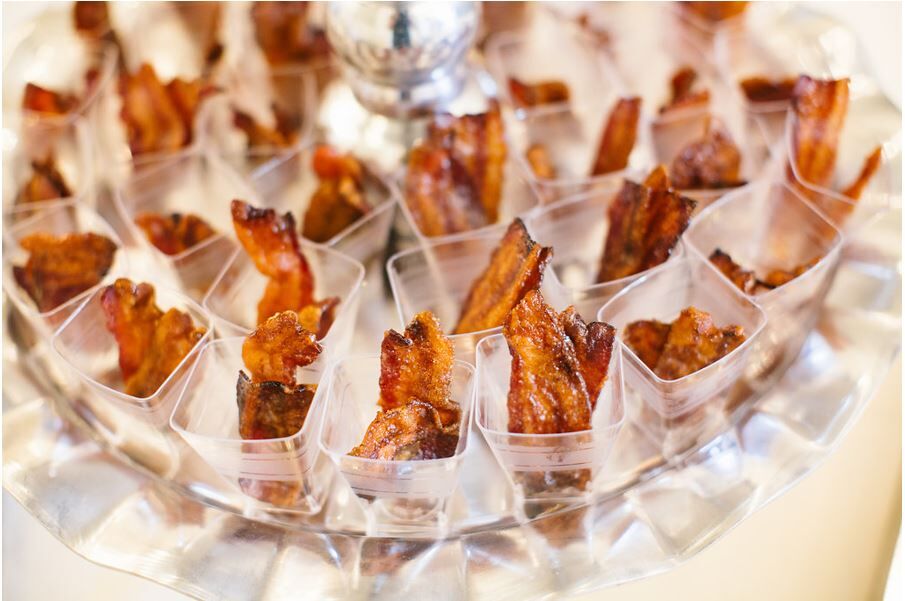 Generally speaking, brunch weddings overall tend to be less costly than a traditional dinner wedding. Eggs and pancakes are certainly less expensive than beef and chicken as main entrees, so brunch can be a good option for the budget conscious. Now, if you add beef tenderloin sliders or lots of seafood, catering prices will likely be similar to a more traditional wedding.
You can also save on alcohol with a brunch wedding if you stick with wine, beer and brunch cocktails instead of a full bar. Guests aren't likely to drink as much as at an evening wedding, especially if you don't offer the full gamut of alcohols, so you can save big on liquor costs.
There are lots of things to consider when deciding whether or not to host a brunch wedding—budget, time of day, the style/vibe you want guests to come away with, and of course, menu! If you love breakfast and want to host a non-traditional wedding, a Sunday brunch wedding may be just what you're looking for!
Mavis Linnemann-Clark, The Delish Dish, Made by Mavis, Kickstart Kitchen 
Chef Mavis Linnemann-Clark founded The Delish Dish and Made by Mavis to bring her passion for gourmet food, global flavors, and knack for southern hospitality and events to Cincinnati and Northern Kentucky. In 2010, she enrolled at Kendall College, the No. 1 program for culinary arts in Chicago, where she was classically trained in French technique and participated in a Mexican master class. She graduated in 2011 with a certificate in catering and personal chef. In 2012, upon moving back to Northern Kentucky, she established The Delish Dish to bring globally inspired dishes and artisan jams to her hometown. In 2013, Mavis was a finalist in the spring class of Bad Girl Ventures (now Aviatra) and launched her artisan jam line, Made by Mavis Artisan Jams. In 2017, Mavis launched Kickstart Kitchen, a kitchen incubator that serves new and growing food businesses through kitchen rentals and business planning services, and in 2018, won the 2018 Kentucky Woman-Owned Business of the Year from the Small Business Association.